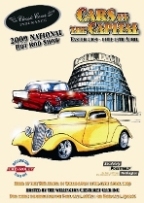 The Classic Cover 2009 NZHRA National Hot Rod Show hosted by the Wellington Chevrolet Club was held over Easter Weekend.
The TSB Arena became the home to 66 cars for the weekend where they sat polished and gleaming awaiting the 8500 visitors who came through the doors over the three days.
The host club Wellington Chevrolet Club, had a well organised committee and all credit should go to these guys and gals who made the weekend possible and an awesome experience for all those who attended as entrants, trade stand stall holders or viewing public.
Sunday night saw the prize giving take place at the Loaded Hog on theWellington waterfront. With 36 prizes up for grabs, it was a tough job for the NZHRA Executive who judged the vehicles. Daryl Gates, NZHRA President together with Robert Fern, Wellington Chevrolet Club President presented each award. Daryl Gates commented that "All entrants, prize winners or not, were all winners in his eyes as they had made the event such a huge success".
The big prize for the night was the Sweepstakes Award, which went to John Allen of Riverside Rodders in Hamilton. John's 1932 Ford 5 Window Coupe claimed 7 placings in the awards, including Stealth I.C.E which was judged by the guys from Kicker. John's long hard 20 years of building the 1932 Ford Coupe was rewarded by his Sweepstakes win, John has always wanted to build a show winning vehicle, and he has achieved this to a very high standard with his 1932 Ford 5 Window Coupe. Congratulations John, you have built an amazing car.
Sweepstakes Winner - Sponsored by Century Yuasa

John Allen, Riverside Rodders

 

1932 Ford 5W Coupe

Best Modified Stock Roadster - Sponsored by Pitstop

Paula Leckie , Riverside Rodders

1927 Ford Roadster

Best Modified Stock Coupe - Sponsored by Road & Track

Bryan Kilsby , Tararua Rodders

1937 Ford Coupe

Carl Tredrea, Gold Coast R&CC

1939 Chev Coupe

Best Modified Stock Sedan - Sponsored by JB Hughes Construction

Mark Coffey, Cam County

1934 Chev Sedan

Alan Snow, Western Bays St Rods

1937 Ford Sedan

Best Custom Hot Rod Roadster - Sponsored by Americar R&CC

Ian Jones, Nelson City

1932 Ford Roadster

Greg Hurndell, Wanganui Road Rodders

1932 Road Roadster

Grant Blackwood, Hicktown Hustlers

1932 Ford Roadster

Best Custom Hot Rod Coupe - Sponsored by Mothers Car Care

John Allen, Riverside Rodders

1932 Ford 5W Coupe

Daryl Gates, Riverside Rodders

1928 Model A

Francis Boyd, Tararua Rodders

1936 Ford Coupe

Best Custom Hot Rod Sedan - Sponsored by Trophy House

Mike Rockliffe, Early Iron Street Rods

1932 Ford Tudor

Best Custom Hot Rod Pickup - Sponsored by Cheers Auto's

Peter Richards, Taupo R&CC

1948 Ford Bonus Pickup

Errol Uttinger, Matamata R&CC

1948 Chev Pickup

Bob Vincent, Hustlers R&CC

1948 Ford Bonus

Best Bucket - Sponsored by Hot Rod Lane

Wayne Thompson, Shoebox Club

1923 Ford T Bucket

Neil Levick, Hutt Valley R&KC

1923 Ford T Bucket

Nick Bush, Moonshine R&CC

1923 Ford T Bucket

Best Pre 49 Commercial - Sponsored by Classic Car Services

Lynnda Bouzaid, Capital Rodders

1934 Chev Delivery

Best Stock Street Machine - Sponsored by Kruzin Kustoms

John Hughes, Hustlers R&CC

1969 Ford Mustang

Terry Allen, Cam County Inc

1970 Plymouth Cuda

Mark Coffey, Cam County Inc

1963 Ford Galaxy

Best Classic Sedan - Sponsored by Classic Car Services

Rodger Putt, Ramrodders

1956 Buick Super

Best Classic Coupe - Sponsored by Ramset NZ Ltd

John Hughes, Hustlers R&CC

1969 Ford Mustang

Terry Allen, Cam County Inc

1970 Plymouth Cuda

Simon Kane, Hicktown Hustlers

1971 Plymouth Duster

Best Classic Convertible - Sponsored by Kiwi Shipping - Mainfreight Intl

Mark Coffey, Cam County Inc

1963 Ford Galaxy

Robert Ferns, Wellington Chev Club

1957 Chev Belair

Mark Coffey, Cam County Inc

1958 Ford Retract

Best Street Machine Sedan - Sponsored by Placemakers Kaiwharawhara

Jimmy Keeys, Shoebox Club

1951 Mercury Sport Sedan

Bruce Davis, Wellington Chev Club

1956 Chev Belair

Sean Williams, Southside Streeters

1956 Chev Belair

Best Street Machine Coupe - Sponsored by New Zealand Petrolhead

Sam Early, Garden City Rodders

1970 Chev Camaro

David Murtagh, Western Bays Street Rods

2008 Ford Mustang

Tyrone Mauch, Americar R&CC

1968 Cadillac Coupe De Ville

Best Street Machine Convertible - Sponsored by Pitstop

Tony Anderson, Hicktown Hustlers

2008 Cobra AC

Best Custom - Sponsored by Street Low Kustoms

Colin Wansbrough, Western Bays Street Rods

1956 Chev Belair

Dion Marson, Cam County

1963 Plymouth Belvedere

Alistair Davidson, Manukau R&CC

1962 Ford Thunderbird

Best Post 48 Commerical - Sponsored by Hotel Ibis Wellington

Cliff Blackwood, Western Bays Street Rods

1957 Ford Country Sedan

Paul Boden, Wellington Chev Club

1955 Chev 210 Wagon

Rick Elmsly, Ramrodders

1970 Chev El Camino

Best Competition - Sponsored by Masterton Auto Body

Bill Ward, Rod Benders

1927 Ford Roadster

Steve Anderson, NZDRA

Front Engine Dragster

Best Unfinished Pre 49 - Sponsored by Earl's Body Shop

Errol Uttinger, Matamata R&CC

1947 Ford Coupe

Rob Lowe, Hutt Valley R&CC

1932 Ford Tudor

Matthew Crump, Capital Rodders

1932 Ford Roadster

Best Unfinished Post 48 - Sponsored by Earl's Body Shop

Blair Ramsey, Wellington Chev Club

1957 Chev Belair

Best Engine - Sponsored by Kerry Lindsay Engine Reconditioners

Bryan Kilsby, Tararua Rodders

1937 Ford Coupe

John Allen, Riverside Rodders

1932 Ford 5W Coupe

Mike Rockliffe, Early Iron Street Rods

1932 Ford Tudor

Best Engineered - Sponsored by Ed Junior Kustom Rides & Classics

John Allen, Riverside Rodders

1932 Ford 5W Coupe

Greg Hurndell, Wanganui Road Rodders

1932 Ford Roadster

Mark Coffey, Cam County

1934 Chev Sedan

Best Interior - Sponsored by Allcar & Marine Upholstery

John Allen, Riverside Rodders

1932 Ford 5W Coupe

Peter Richards, Taupo R&CC

1948 Ford Bonus Pickup

Sam Early, Garden City Rodders

1970 Chev Camaro

Best Custom Paint - Sponsored by Diesel & Turbo Wellington

Lynnda Bouzaid, Capital Rodders

1934 Chev Delivery

Mike Rockliffe, Early Iron Street Rods

1932 Ford Tudor

Errol Uttinger, Matamata R&CC

1948 Chev Pickup

Best Flake Paint - Sponsored by New World Metro Willis Street

Alistair Davidson, Manukau R&CC

1962 Ford Tunderbird

Best Paint - Sponsored by Auto Image

Bryan Kilsby, Tararua Rodders

1937 Ford Coupe

John Allen, Riverside Rodders

1932 Ford 5W Coupe

Peter Richards, Taupo R&CC

1948 Ford Bonus Pickup

Best Traditional Vehicle - Sponsored by NZ Hot Rod Association Inc

Jimmy Keeys, Shoebox Club

1934 Ford 5W Coupe

Most Promising Show Rodders - Sponsored by NZ Hot Rod Association Inc

Nick Bush, Moonshine R&CC

1923 Ford T Bucket

Best Represented Club - Sponsored by Wellington Chev Club Inc

Hutt Valley Rod & Kustom Club

Stealth I.C.E (In Car Entertainment) - Sponsored by Kicker

John Allen, Riverside Rodders

1932 Ford 5W Coupe

Custom I.C.E (In Car Entertainment) - Sponsored by Kicker

Peter Richards, Taupo R&CC

1948 Ford Bonus Pickup

Rodders Choice - Sponsored by Firestone Thorndon Quay

John Allen, Riverside Rodders

1932 Ford 5W Coupe

Peoples Choice - Sponsored by Supreme Automotive Refinishes

Peter Richards, Taupo R&CC

1948 Ford Bonus Pickup

 
 
 

Best Display

Kendal Smith, Gear Jammers Inc

1932 Ford Roadster